This is the commonly asked question now that I am returning to university after 4 months of the so-called "real-life experience"…
The trip down memory lane takes me back to my very first day at the office in Stockholm, which was a real eye-opener to what "U&We" means. Meeting my supervisor for the first time, he gives me an introduction to the office and then passes me the book "After Work: Farväl till Arbetslinjen" and says:
"Here, read this. It's important to not let work get ahead of life."
An unusual thing to say to an eager student on her first day at work. But point taken, remember the "U" in the equation… In order to set up email, printer rights, social media access, and all other admin stuff necessary on your first day at work I was told to talk to Peter. Thinking he's the common I.T. geek, I strolled over to his desk and demanded his time. For over 20 minutes he helped me with all the small necessities. Finally having access to the server and delving deeper into the information online, I realised that P. wasn't only tec-savvy, but the founder of the consultancy. (oops!) But this incident in a nut shell describes the "We" in the U&We composition: Everybody is open, willing to help, incredibly knowledgeable and joyful. It's not uncommon to see the CEO break out in a happy dance when she feels like it.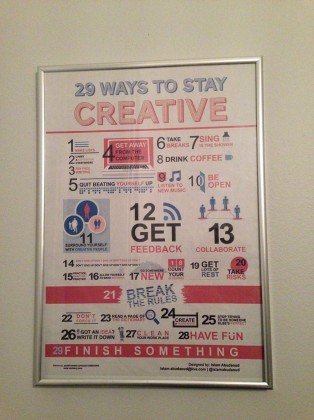 And so what did I do? I worked for their newest project, Hållbara Restauranger. A project started by them, not received from a client. A project they felt was important, even if not yet beneficial economically. It taught me that sometimes you need to go with your gut, not to see obstacles, but possibilities. I was a part of its social media birth, and saw it rise to a decent number of followers. I participated in all 6 workshops, assisted in situation assessments at the restaurants, baked bread in Saltå Kvarn's bakery, and cooked hen at a restaurant school. I contributed with ideas to the development of the project. I became a self-turned communications person, went to seminars, even spent my free time thinking about sustainability and business. And food. I also learned a lot. All the time.
Naturally, some days are long and tiring, because this is what professional people do – they work hard. Yet it is easier if you also have fun, and a group of like-minded people around you. To paint you a picture – it means that even their candy (candy is like a sin, but in a light form; it makes you feel good because you know it's actually bad) is organic!  Their coffee and tea is organic and fair trade, the coffee machine is carbon neutral, and of course they carbon offset. The whole office won the Green Tenant Award this autumn. People bike to work even in winter.
So, what was my internship like? It helped me define my own values and was the best job I ever had.