Our history
We wanted to make a difference
We (Johan Ununger and Peter Wrenfelt) were living in different countries and were in various ways engaged in the environmental cause. Our starting points were different environmental organizations and nongovernmental world where we both led successful projects. Johan was in Sweden working at Naturens Hus and Peter in Brazil via Framtidsjorden. One day our roads crossed at a time when we were both struggling with moving forward. We both felt that they we were fighting something bigger and wanted more, wanted to be different and had  enough.
We wanted to work with companies, not against them.
Our idea was simple. In the business world there is a lot of power and resources, and thus possibilities. A company is an enormous power house and has all the possibilities to change the world. Herein lies hope. Thus, we decided to focus all of our energy on creating collaborations with companies; collaborations providing businesses with business opportunities while safeguarding for a sustainable future. We still work this way today. We want to be a resource and a partner. Creating good business together.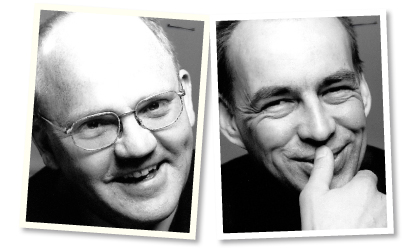 The customer's needs became U&We's start.
Gröna Konsum was about to be formed in the mid 90's and the ambition was to work with environmentally-driven business development. We took  the opportunity to submit proposals for its planning and implementation which led to our first assignment as U&W (which we promptly called 'us'). Our methodology, founded during this time, is protected under the name "camel analysis". Camel analysis is about "straining camels, not gnats" which translates into choosing the strategically important and commercially viable environmental issues. The method is one of main pillars of our work today and in most of our missions the camel analysis is included in a startup project. What we did for Gröna Konsum in the 90's was the start of a long-lasting relationship, and we are pleased to have its successor Coop as a partner.
Much has changed over the years and our ambition at U&We is to be the company that keeps track of time and always meets our customers' needs. What's changed furthermore is that we went from being two enthusiasts to 12 devoted employees. We also founded Zeromission, where yet another five engaged colleagues work. Our permanent ambition is to always work with, and not against, our customers in a place where energy and positive force exist. For the benefit of our customers, and for the benefit of our future.
What about the name U&We?
Well, from the beginning it was our initials from two last names (Ununger & Wrenfelt). As we grew, we obviously wanted the name to symbolize all of us and maybe the way we like to work. So we switched to U&We. For us, it means that YOU (U) as a customer are always our top priority and We are at your service.
December 13, 2017