Last week Isabella Lövin, Sweden's deputy PM and climate minister presented a new climate law. It's a big law. We've done big laws before, but this is great, really. She also signed it surrounded by women. We have women – the best women – in Sweden. They are great, absolutely fantastic.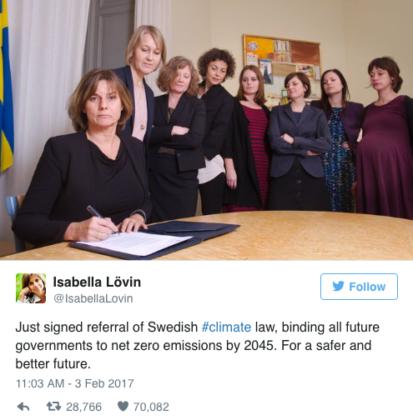 Ok, back to serious. What are we looking at?
The climate law in a nut shell
The goal is to reduce Sweden's carbon emissions with 85% compared to 1990's emissions by 2045. The rest can be achieved through climate investments abroad. After that, net output should be zero and negative emissions should result as forests and soil increasingly take up carbon.
As a sub-goal the transportation sector should achieve 70% emission reductions compared to 2010. This is an important milestone, as currently the transportation sector stands for a big chunk of the overall emissions. With a clearer goal, more funds can go towards innovation within this field, something very much underway already.
The real deal
This is an important, and some would say logical step forward after the Paris agreement. A climate law would bind all future Swedish governments to work towards the Swedish climate goal. In essence, it will be illegal to neglect climate.
If it passes through parliament it will be in effect as of January 1st, 2018. Future governments have to account for how emissions will be reduced and every four years the government needs to present a climate policy action plan. Every year a carbon budget has to be presented alongside the budget proposition. While some may see this an unnecessary bureaucratic set up, it binds the government to stay on top of their target.
What does it mean for business?
Within the business world it means clarity and will simplify strategic business decision, something very much welcomed.
Today's targets for 2020 are too short-sighted for businesses to make the necessary big investments. With a law-enforced target of being a net positive country by 2045 it provides a clear framework for business to be working in. It's a way of elongating short-term political goals (determined through elections every 4-5 years) and providing businesses with a more stable and long term structure. This simplifies when they need to justify 30-year investment plans.
What does it mean for the world?
With clear milestones for the years 2030, 2040 and 2045 and with the goal of the transportation sector it seems that we are looking at a country ready to lead.
Denmark, Britain and Finland have also passed climate laws. Ireland announced at the end of last month that they will completely stop funding fossil fuels; bye-bye coal and oil. In November, Germany approved its Climate Action Plan 2050 outlining its vision of how to transform the economy. Sweden is joining other countries that are stepping up their game.
While it can be discouraging to hear what the U.S. President has in mind when it comes to climate change, it doesn't matter to me. We can find leaders elsewhere, willing to make the future great again. Let's focus on them, instead.